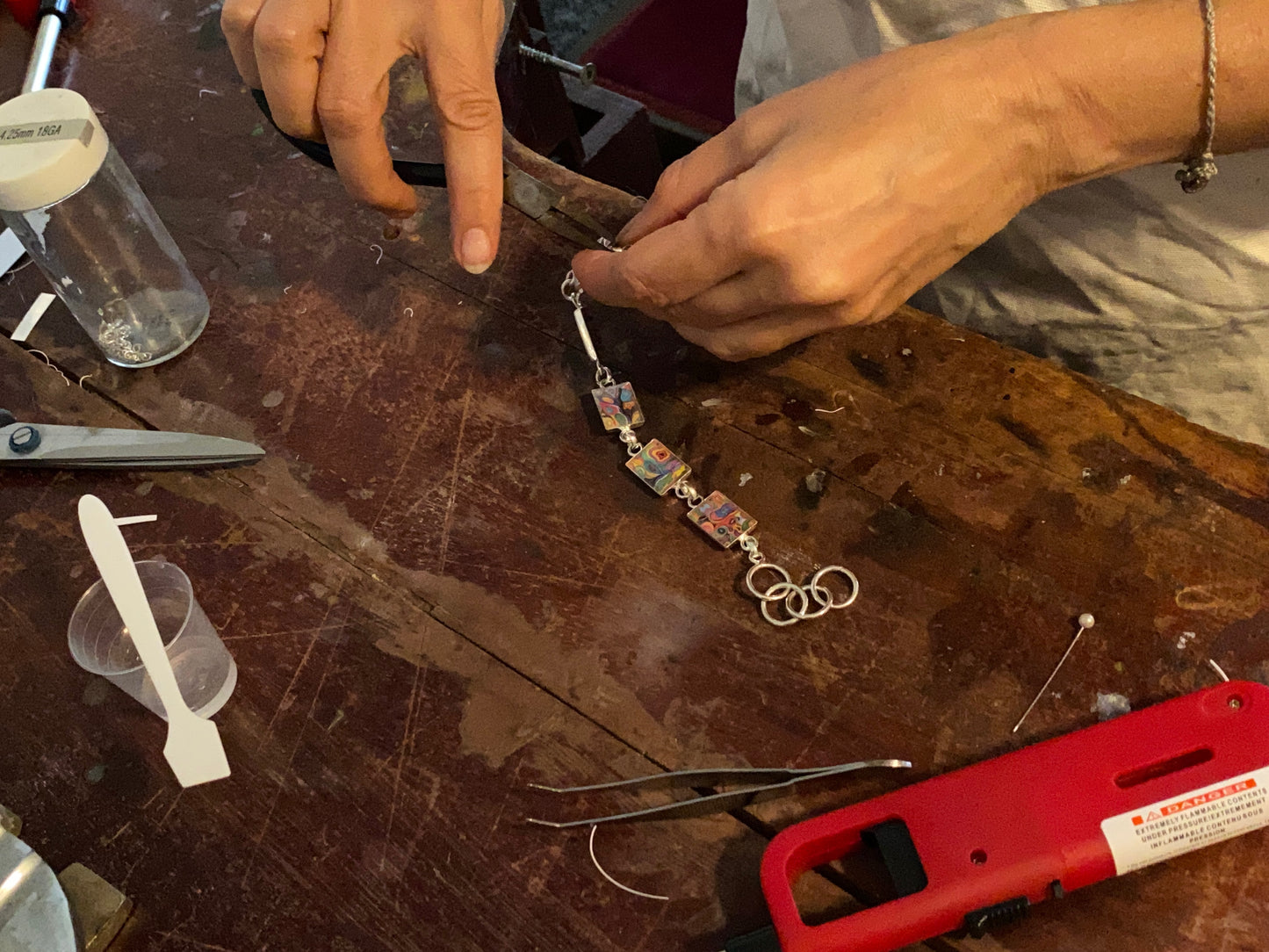 Often times in art, it's the end result, the final product that gets the attention, but today we want to share with you our process, the process of creating your custom jewelry and accessories.  
Once you have chosen your desired items and have uploaded your art, we send you over some proofs. I always like to give a few options to choose from. For example, if it's an abstract design, we might show different parts of the design as well as the design as a whole. If we were doing cufflinks or earrings, we might do one part of the design for one ear, and the other part of design for the other. If it's a coloured pencil drawing, we might add coloured borders to really make your design pop and to give you a few options to choose from.
We are not a print on demand company. We aren't about taking a piece of art and sticking a piece of glass or plastic on top of it and calling it complete without careful consideration, revisions and edits. We like to have our customers involved in the design process. When we're working with kids' art, it's wonderful to have their feedback to help guide us. We encourage them to look at the proof, and we'll get comments like, "Nico would like a dark blue border instead of a green border." We love it!
Once the artwork is approved by you, then we proceed to make your piece. Everything is uniquely handmade in Toronto.The artwork is printed on a special coated paper and then cut out by hand for accuracy and precision. From there, it's carefully placed into a handmade frame. We work with a special resin that is carefully poured over the design which gives it a clean, smooth lacquered finish. The resin takes 24 hours to cure but we like to give it at least 72 hours to ensure each piece is fully cured. Once we reach that 72-hour mark, we then polish and complete your piece, engraving if desired.
From there, it's time to pack your keepsake. Each finished item comes boxed and packed inside is your piece, wrapped in a red velvet bag alongside a card with the artist's name. We also include a polishing cloth and the story of how MADE WITH YOUR ART came to be.
When I first started out as a jeweller, I trained in Japan with a metalsmith. It was there that I learned the art of Omiyage. Omiyage is when you buy something, not for yourself but for someone else, as a memory of a trip you've taken. It's usually something simple, but thoughtful and beautifully wrapped. That care and thoughtfulness goes into every piece we make at MADE WITH YOUR ART. We believe the best gifts are the ones that tell a story. Each time we make a custom piece, we thank you for letting us be part of your story.